The AMP stands for the Amplified mobile pages and today I am going to tell you how to make your WordPress site Google AMP ready within next 10-15 minutes.
First let me tell you, why we need APM powered site. Most of the time when a page takes much time to load completely, user fly from the page. This increases bounce rate of the site. There are multiple ways to speed up WordPress site. Google AMP is the most promising service to serve optimized pages of your website to organic visitors and if you are WordPress user, it's easy to implement.
Integrating Google AMP with WordPress
The very first step is to install AMP plugin. There is an AMP plugin in the WordPress Plugin repository. You have to install it. This plugin adds support for the Accelerated Mobile Pages (AMP) Project, which is an open source initiative that aims to provide mobile-optimized content that can load instantly everywhere.
To install it correctly go to your WordPress Dashboard, in the plugin, section click on add a new link. Now search for AMP plugin using the search option and install it. After installing click Activate button. That's it.
READ| AMP Testing Tool By Google To Test Website
Now, you can check if the plugin is working correctly or not just by putting amp at the end of the URL of your website. For example, https://www.infophilic.com/amp This will show you the AMP version of your website. See the picture below the amp version: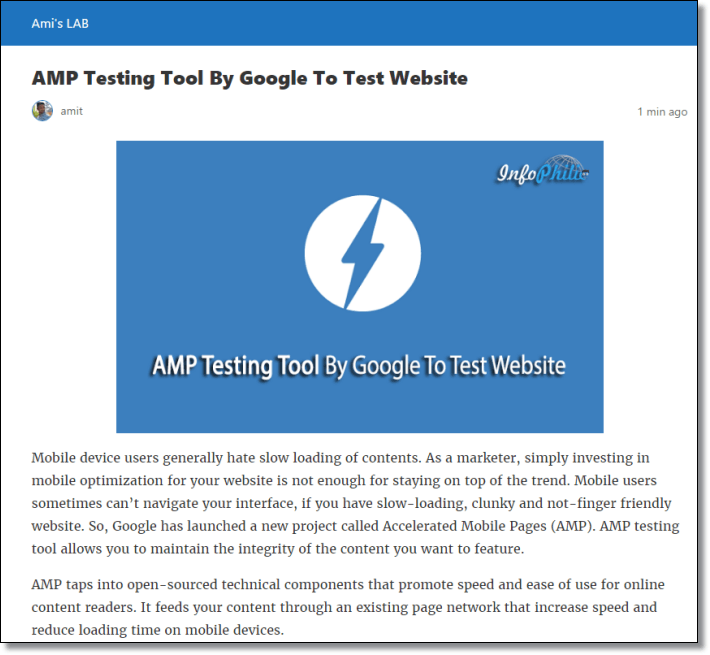 Once you confirm, your website working fine with AMP plugin you can customize your AMP version.
Customize AMP Using Plugin
There are multiple plugins available for the AMP customization, I would recommend you to use AMP for WP – Accelerated Mobile Pages. It is the best plugin that I found for the AMP customization. The developer of this plugin has an eagle eye on the new features and he tries to give all the possible features of AMP through this plugin.
To install, this plugin head over a WordPress dashboard and in plugin section add new plugin. Install AMP for WP – Accelerated Mobile Pages and activate it. After activating the plugin you can see Welcome tab under AMP where you can customize your site's AMP version. See the picture below showing the customize panel. Click image for full view.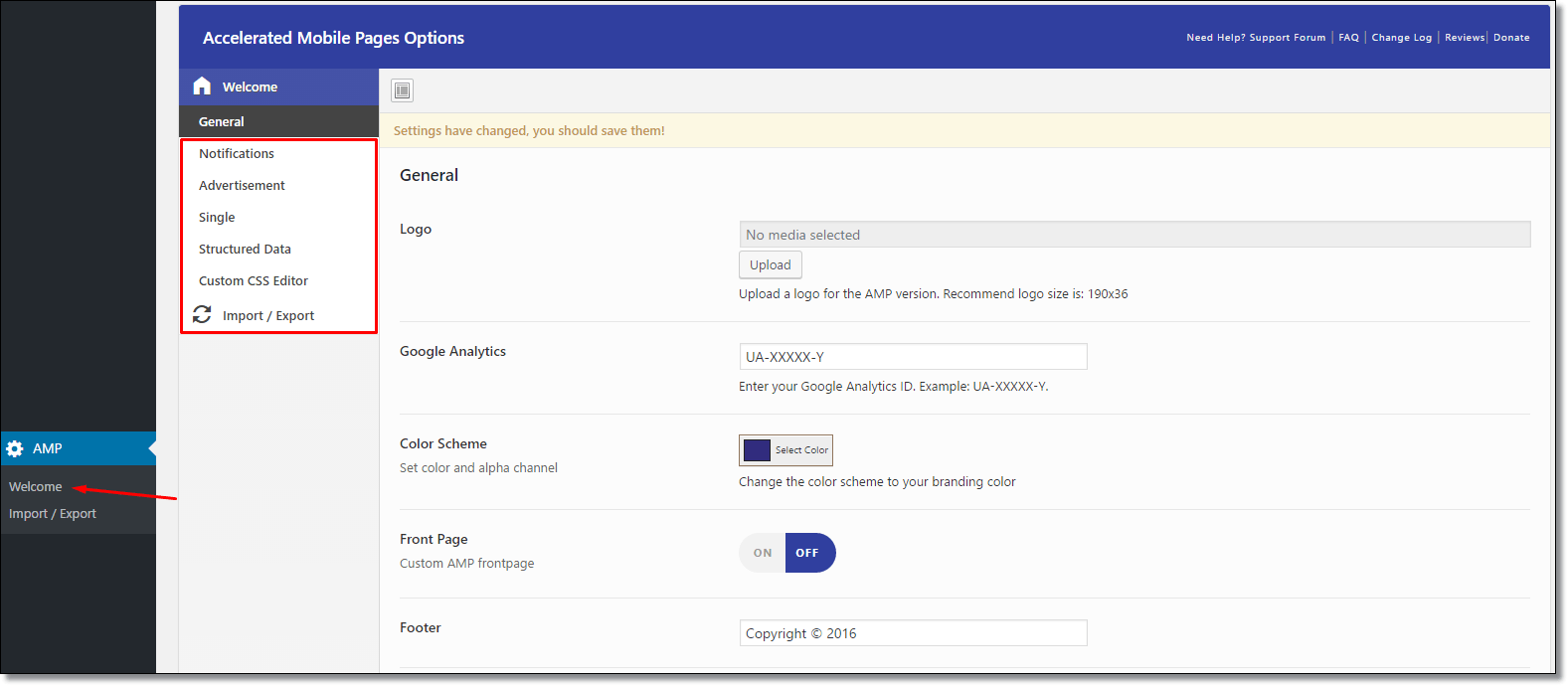 SEO & AMP
You must be very well familiar with the SEO. After integrating AMP on your WordPress site you have to work on some SEO factors. If you using Yoast SEO then you can make AMP version of your website SEO friendly just by installing Glue for Yoast SEO & AMP.
READ| How to install and Setup Yoast SEO WordPress Plugin
All you have to install Glue for Yoast SEO & AMP plugin, no further setup required.
UPDATE:
You won't be needing the AMP by Automattic plugin from now. Use only AMP for WP – Accelerated Mobile Pages if you want customized AMP version.
You can also use Glue for Yoast SEO plugin for the customization. This also allows you to choose default featured image for the old articles. You can even integrate Google analytics code from the same plugin.
Conclusion:
So this is how you can make your WordPress site Google AMP ready. It will hardly take 10 to 15 min to work on. Follow each step carefully. If you have a further query or need some help, drop a comment below in the comment section.