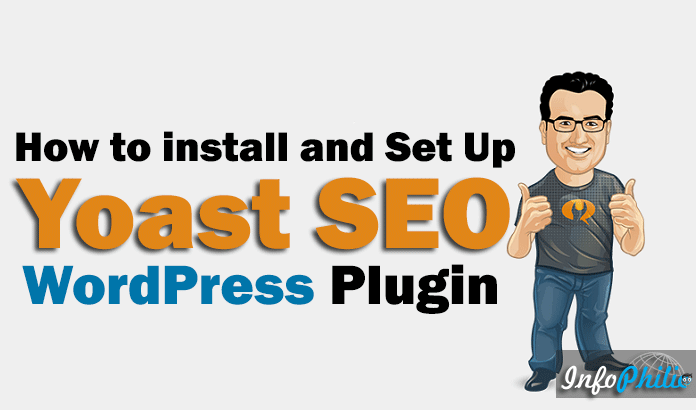 Website SEO plays an important role to get more traffic on the site. SEO stands for the Search Engine Optimization. SEO helps you to index your website in the various search engines. There are lots of popular SEO plugins are available in the WordPress plugin directory.  Among the list, Yoast SEO is the best option for the newbie.
Yoast SEO is WordPress plugin by the team Joost de Valk. It has 1+ Million Active Installs. Basically, it's a very good idea to have this plugin installed on your site.
In this tutorial, I am gonna tell you installing and configuring guide for the Yoast WordPress SEO Plugin.
So let's start with the installation process.
Installing Yoast SEO
Login to WordPress Admin area of your blog.
Go to plugins from the left-hand side navigation.
Add new and search for "Yoast SEO" in the search bar on the right-hand side of the screen.
Click on Install Now
Configuring the plugin
Once you install and active the plugin you can see the new tab named SEO in the left-hand side navigation at the admin panel. It has 7 subpages for the configuration. Don't panic, it's easy to configure. Let's start configuring the plugin step by step.
General – Yoast SEO
Go to SEO tab >> Dashboard
In dashboard section, you can see the notifications for problems and improvements for your website.
General section, it's a tour part provided by the developer.
Your info, provide correct information about your blog or a website.
Webmaster Tools verification
Now, this is a bit complicated to setup. To get meta values from the services like Google, Bing, Yandex, you have to submit your website to respected search engines. You can click blue links highlighted in the image below to submit your site.
READ| How To Add Your New Site To Google Webmaster Tools
Titles & Metas
General
Enable force rewrite title.
Title separator, choose as shown in the image below.
Enable Readability analysis.
Enable Keyword analysis.
Homepage
Post Types
Input %%title%% in title template
Index Meta robots.
Hide Date in snippet preview.
Show Yoast SEO meta box.
Input %%title%% in title template.
Input %%caption%% – %%title%% – %%sitename%% in meta description template
no index meta robots
hide date in snippet preview
show Yoast SEO meta box.
Taxonomies
Input %%term_title%% Archives %%page%% %%sep%% %%sitename%% in title template.
index meta robots (for categories)
hide Yoast SEO meta box. (for categories)
no index meta robots

(for tags)

hide Yoast SEO meta box.

(for tags)
Archives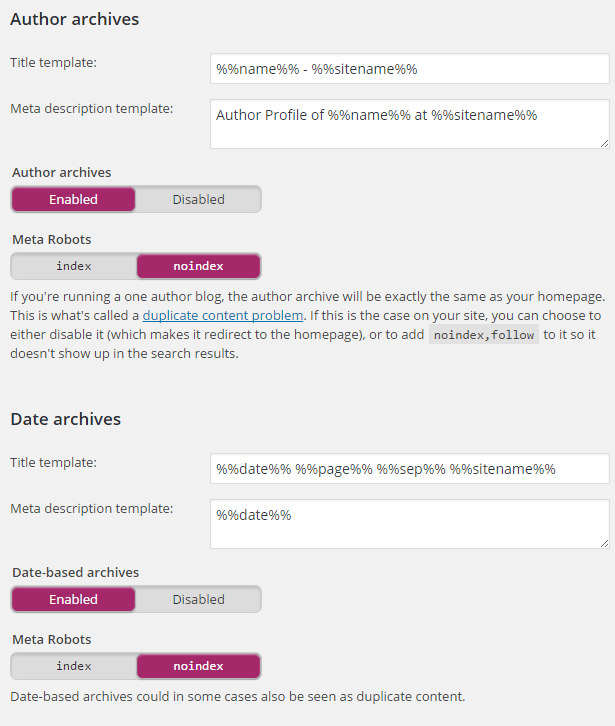 I suggest you keep Special Pages as it is.
Other
Social
XML Sitemaps
Enable XML sitemap functionality. It generates XML sitemaps for your website. It updates sitemaps whenever you add a new post or page. No need to make further changes to XML Sitemaps settings.
Advanced
With the help of advanced settings, you can configure breadcrumbs and permalinks. To configure breadcrumbs-
Enable Breadcrumbs.
Under the Taxonomy to show in breadcrumbs for post types choose Category in Posts as shown below.
RSS
No modification required in RSS section.
Tools
Yoast comes with some very powerful tools. In tools, a section there are three tools available. Available tools are shown in the image below.
Bulk Editor
This tool allows you to quickly change titles and descriptions of your posts and pages without having to go into the editor for each page.
File editor
This tool allows you to quickly change important files for your SEO, like your robots.txt and, if you have one, your .htaccess file.
Import and Export
Import settings from other SEO plugins and export your settings for re-use on (another) blog.
Search Console
This is a good option in Yoast SEO plugin. You don't need to login to your webmaster account for URL error (Crawl errors). Use this guide to add your site in Google Webmaster tool. Just click on Get Google Authorization Code button. The pop-out will appear, now copy your Google Authorization Code and hit Authenticate button. Done!! Now, you can check all crawl error right from your WordPress panel.
To check crawl error, go to SEO>>Search Console
You can add 301 redirects if you have the premium version. All the above configuration works on a free plugin.
This is how you can install and configure Yoast SEO WordPress plugin for your blog or a website. As per my experience, these configuration gives the best performance.